New School Year Information
First Day of School: August 14, 2023
The Admin drive next to the bank is EXIT ONLY between 7:30 and 8:00 a.m and 3:00 to 3:45 p.m. Please do not turn into the drive the enter campus during the exit only times.
ALL FORMS AND CHROMEBOOK COVERAGE MUST BE COMPLETED BY SEPTEMBER 5, 2023
2023-2024 Student Information Form
Please only complete the student information sheet once per student. If you complete it before Open House, you do not have to complete the form at Open House.
Immunization Clinic- 8/29/2023 You MUST have the proper paper work filled out PRIOR to vaccine administration. If you have any questions please contact the school nurse at 870-572-7294 ex 4730.
Covid- 19 Vaccines will NOT be administered during the clinic.
2023-2024 Chromebook Information (Chromebook Care Dates: 8/3/23 7:00am-6:00pm and 8/10/23 2:00pm-6:00pm)
Non payment by Sept. 5th, is an automatic deny of Chromebook Care. Students who deny Chromebook Care will be responsible for the cost of the device according to the depreciation scale.
Backpacks and school supplies will be provided for the 2023-2024 school year!!!! Students will recieve their supplies during the first week of school
3 car rider lines during the 2023-24 school year.
NEW FOR 23-24: The drive between the bank and the Admin building will be 1 way exit only between 7:30-8:00 a.m. and 3:00-3:45 p.m. No vehicles will be allowed to enter the campus from this drive durning these times.
Line A (Green): Elementary Students ONLY: Drop off in front of the Elem/Cafe like normal, exit onto Highway 49 between the bank and Admin building.
Line B (Blue): High School and Elementary Student: Drop off under the awning on the high school building, exit onto Highway 85.
Line C (Yellow): High School Student ONLY: Drop off at gym, exit onto Highway 85.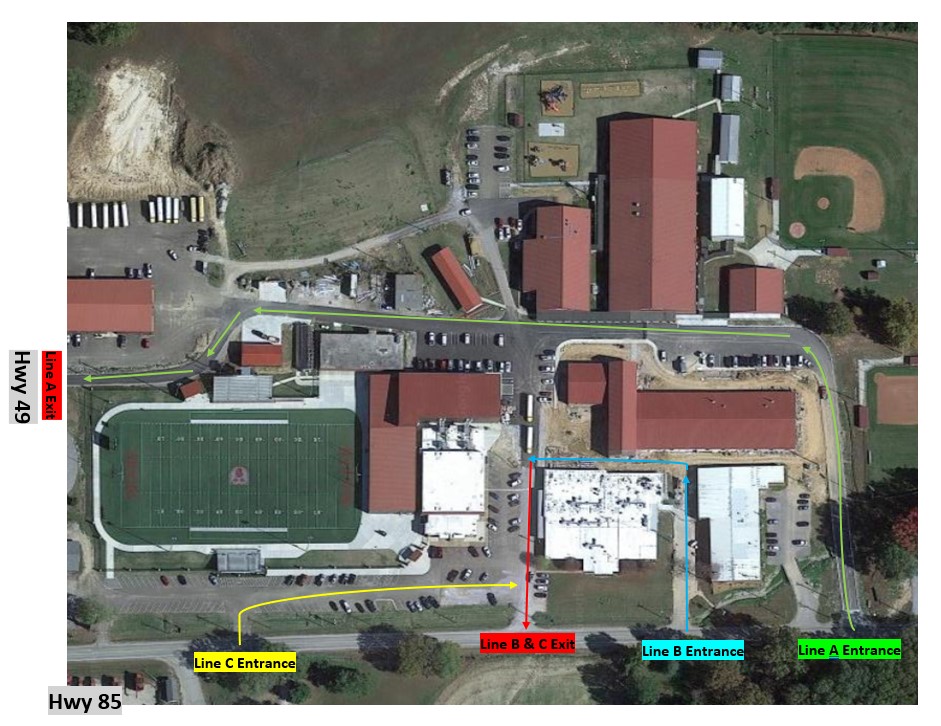 23-24 Barton School Bus Route Updates
Bus 30 (Lakeview)- Etta Circle will be picked up at Highway 44 where the circle road meets the highway.
Bus 26 (PC 241 to 249 area) and bus 29 (PC 240 to 245 area) routes are now combined as one route.
Bus 32 (PC 251 Lexa Area) will be ran backwards. The route will start on PC 353 and end on PC 251.
Download the bus contract here!
23-24 Barton School Bus Drivers and Routes
Bus 30 (Frog): Cyndi Slane-Hwy 20 – PC 426 – Lakeview – Hwy 44
Bus 28 (Horse): Sherry House-Hwy 85- PC 352- PC 354- Market street- MLK Jr Drive
Bus 33 (Fire Truck): Timmy Bond- PC 350- Hwy 316- PC 102- PC 103- PC 104
Bus 31 (Cat) Greg Poole: PC 300- Walker subdivision- Jade Estates
Bus 29 (Dog): Travis Williams: PC 240- PC 245- PC 249- PC 241 Celebration Hall
Bus 32 (Ice Cream): Junar Cabuenas- PC 353- Highway 49 West- Highway 1 to Lexa- PC 251
Bus 27 (Owl): Francis Palmer- Hwy 49- PC 315